I love love love browsing thrift stores, buying ugly things for really really cheap, giving them a facelift at making them beautiful.
I was browsing at one of my favorite spots a couple weeks ago and came across a very sad looking short bookcase. It was falling apart and parts were lifting up. It looked like wood, but upon further inspection it's actually that fake wood, pressed cardboard stuff with a wood-like covering on it. Well, I saw it's potential, and scooped it up for $7 (I'm bummed I didn't take a before picture of it). I stopped by Walmart and bought a small can of Peacock Blue paint, got home, re-glued some pieces, sanded it down and gave it two coats of the pretty paint and turned a pitiful little bookcase into my new accent furniture.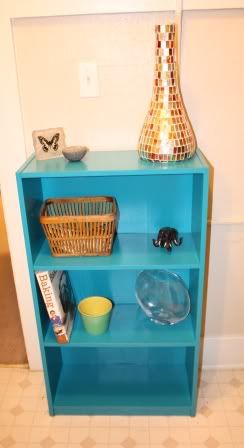 I still have to put books and things in it and decorate it cute, but you get the idea!