I have been wanting to do something to the small wall under my stairs in my front room for quite a while and finally got off my booty last week and did it! I had originally thought about doing a repeat stencil and then decided on clean light gray on medium gray stripes!
My little wall before... (don't judge that tiny cluttered table thing lol, I am still unpacking boxes and that's where it stays right now)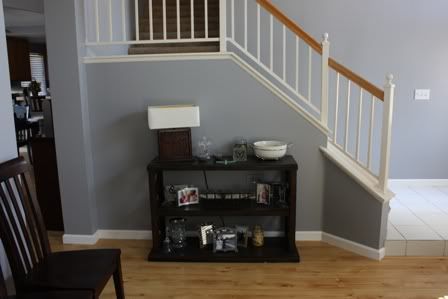 Then I started taping off my lines...be sure to do this right the first time, and take the time to measure exactly or else you will be screwed...I speak from experience ;)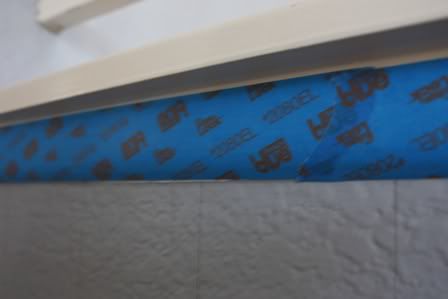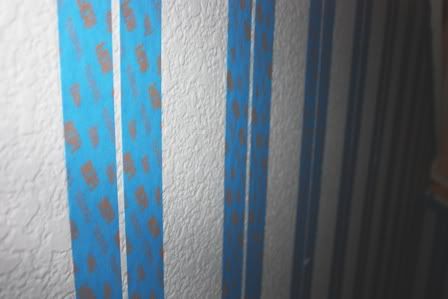 Here's the tips to getting suuuper clean non bleeding stripes...(which I thought I was too good for and have to do a few touch ups still oops!)
1. Paint wall the color you want...all one color (mine was already painted Behr's Gray Timber Wolf)
2. let dry completely
3. Measure and tape off your lines
**4. Here's the secret: Paint over the edges of your tape the same color that is already on the walls (ex: I would use Gray Timber Wolf) you do this to seal the tape to the wall and so the color that bleeds under the tape (because it will if you have textured walls) is the same color that is already on the walls!
5. let that dry a bit and then paint over it the color you want your stripes and remember to always pull your tape before it completely dries so you don't risk pulling off dried paint in chunks.
And Voilà!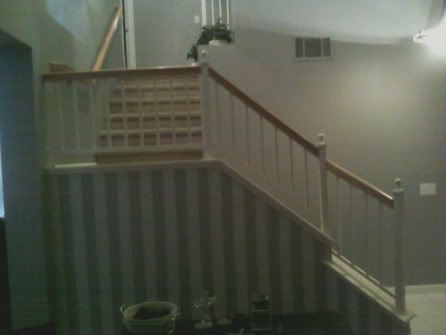 Sorry about the crappy pic. Taken with my cell. But man oh man I am in luuuuuurve!!