Thank you everyone who entered in Little Pink Dollhouse's first ever give away!!
Here are the list of entries
1: Jillian
2: Elizabeth
3: Tara-for fan
4: Tara-for blog post
5: Jennifer- for follower
6: Jennifer- for fan
7:Carolyn: follower
8: Carolyn: blog
9: Carolyn: facebook
10: Carolyn: fan
11:Holly: fan
12: Lindsay: follower
13: Lindsay: fan
14: Nicole: fan
15: Laura: fan
So 15 entires total which I will enter into the random number generator....
And the winner is.....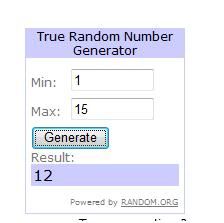 Lindsay!!
Congratulations!! A beautiful new black and white headband will be headed your way!
Thank you everyone once again for entering!
Stay tuned for future LPD giveaways and crafts!